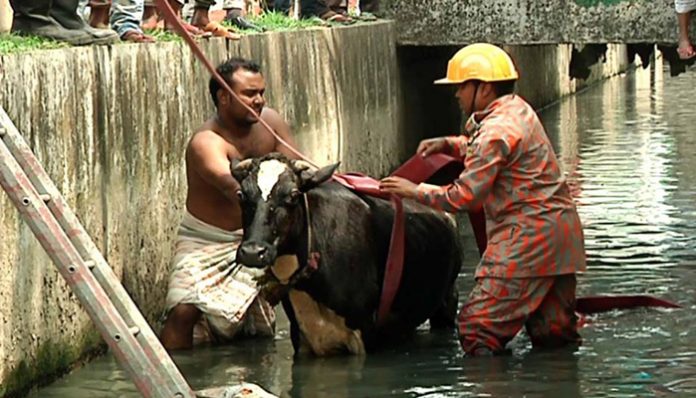 After the cows trapped in sparrow birds, venomous snakes and squables, the fire service has rescued a pregnant cow lying in a drain near the road of Rajshahi City.
On Friday noon, Kalabagan Ghospora area in Rajshahi, the cows went down into the river to eat grass beside the road. After having a baby in the stomach, it could not have come up any more. The locals failed to try. After the fire service workers told them they came to rescue the cows. After about 10 minutes, the fire service staff rescued the cows from the drain.
Farhad Hossain, senior station officer of the Rajshahi Fire Service and Civil Defense headquarters, told that he went to the scene to rescue the dive unit head Nurnanbai along with the news of the fall in the cows. Later, the cow was rescued from the drain under his leadership. Local people also collaborate in this work. After the rescue, the owner of the cow, Alamin Hossain, has been convinced. Being able to do the job, everyone in his unit is happy.
Farhad Hossain said before this, they also recovered poisonous snake birds from Alupatti, a cow stuck in the thickets of Padma, and poisonous snakes from Kumarparha area. The people of the city are now reporting such a crisis as they are going through these initiatives to the fire service.