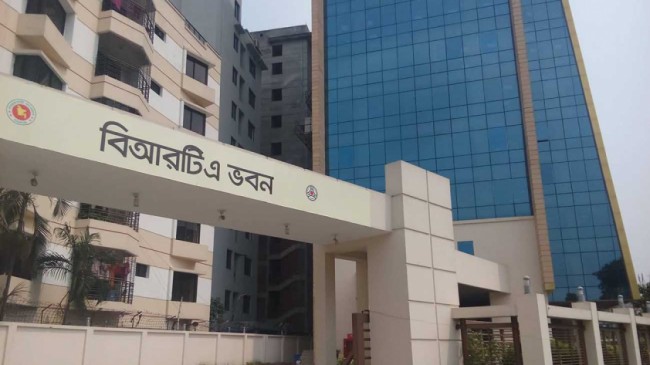 The authorities concerned have started planning the implementation of Prime Minister Sheikh Hasina's directive to bring public transport workers under a dope testing system.
Drug addiction is considered one of the major reasons behind road accidents.
The Bangladesh Road Transport Authority (BRTA) has called a meeting today to find a way to bring the huge number of public transport drivers under the test.
With BRTA's Chairman Nur Mohammad Mazumder in the chair, leaders of transport owners and workers, along with police officials, are expected to take part in the meeting held at the BRTA's head office.
"This is a preparatory meeting to find the way to implement the prime minister's directive," Nur Mohammad told The Daily Star on Tuesday.
They would later talk with health experts and officials of the narcotics department to set how and where the tests may be conducted, along with other issues in this regard.
"We have to hold more meetings. We are giving the highest priority as it's a directive from the PM," he added.
Delivering her speech on October 22 to mark National Road Safety Day, Hasina directed the authority concerned to bring drivers under a dope testing system.
"We need to know whether those who are driving [vehicles] use drugs. They need to undergo dope testing. This test is absolutely essential for each driver. You must do it," she said.
The premier gave several other directives on this occasion.
On October 27, the Road Transport and Highway Division held a meeting with all the heads of the agencies concerned to discuss how to implement the directives and the BRTA was asked to call a meeting over this issue, sources said.
WHY IS THE TEST IMPORTANT?
Kazi Md Shifun Newaz, assistant professor of Accident Research Institute of Bangladesh University of Engineering Technology, said a driver can feel drowsy after taking drugs and they may loss control over the steering, causing accidents.
In many cases, a driver may feel overconfident and try to dangerously overtake other vehicles after taking drugs, he added.
"In order to ensure road safety, dope testing is important so that an addicted driver or a driver under the influence of alcohol cannot run a vehicle," he told The Daily Star yesterday.
There was a move last year when a transport leader said the authorities will start running random drug tests on motor vehicle drivers at different points across Dhaka city from December 1st 2019.
Mobile courts will conduct drives because almost half of the public vehicle drivers in the capital are believed to be addicted to various drugs, and the addiction has become the first and main reason for accidents in the capital, Khondaker Enayet Ullah, general secretary of Dhaka Road Transport Owners' Association, said at a joint meeting between transport owners and workers on September 18 last year.
"We came to know about it by talking to bus company owners, workers and by making field visits," he added.
However, they could not start the dope testing programme, despite wanting to, as transport workers had started a demonstration against the Road Transport Act-2018, he said.